A New Edition of Listening Beyond Hearing Textbook for a New Syllabus
A New Edition of Listening Beyond Hearing Textbook for a New Syllabus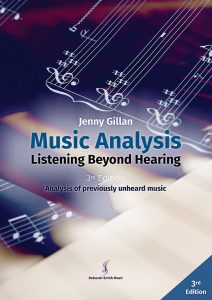 In 2017 the VCE introduces a new syllabus for Music Performance.  To support teachers and students studying this new syllabus, Edition Three of 'Listening Beyond Hearing' is nearly complete!  I'm particularly excited about the Harmony chapter.  Thanks To Matti Gwizdalla and Timothy Mallis for their help in composing pieces for this new edition.
Books include:
Sections on Melody, Rhythm, Tone Colour, Texture, Blend & Balance of Instrumental Voices and Dynamics;
Diverse musical examples, including Australian works;
Sample analyses;
Practice examination questions;
Glossary of terminology and definitions;
Activities to develop listening skills;
Mnemonic aids for remembering musical elements;
Links to appropriate recordings.
With new chapters on:
Harmony – including compositions that demonstrate the effect of harmony on the same melody;
Articulation;
Comparison of Styles;
Form;
Plus many more listening examples and sample responses (including diagrams, chart form, point form and prose).
Click for a link to the flier for the New Edition
Click to order (when available!)