Jennifer Gillan's Publications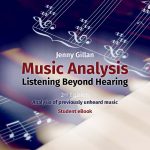 Music Analysis book – Listening Beyond Hearing
Author: Jenny Gillan
© 2016 Jennifer Gillan
A book for analysis of previously unheard works for Year 11 and 12 teachers and students (including VCE).
Books Include:

Sections on Melody, Rhythm, Tone Colour, Texture, Blend & Balance of Instrumental Voices and Dynamics;
New to the 3rd edition, sections on Harmony, Form, Comparison of styles and Articulation;
Diverse musical examples, including Australian works;
Sample analyses;
Practice examination questions;
Glossary of terminology and definitions;
Activities to develop listening skills;
Mnemonic aids for remembering musical elements;
Compositions demonstrating different techniques of harmony and texture;
Links to appropriate recordings.
VCASS Musicianship Training Program
Author: Jenny Gillan
©2009 Jennifer Gillan
Published by the Victorian College of the Arts Secondary School
Aural Musicianship program for students at VCASS. From do re mi to Bach Chorales and Secondary Dominants.
Jennifer Gillan's Projects
Working on revision and analysis papers for downloading from the website. Watch this space!