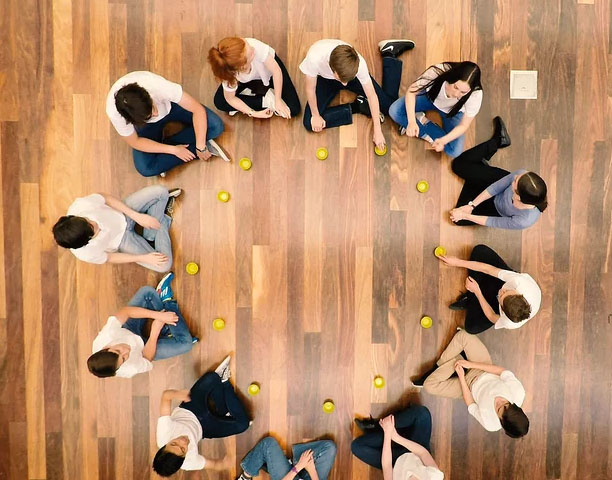 New Games for the Secondary School: Vegetarian Bear/The Emperor's New Clothes
Vegetarian Bear & The Emperor's New Clothes
Partner songs. Music, Lyrics and Game by Jenny Gillan
This game is dedicated to Anna, who made me a Vegetarian Bear badge and who always loved the song.
Thank you again to my students at the Victorian College of the Arts Secondary School for their enthusiastic participation. Especially to the students from Orientation Week who came in especially. Also to colleagues Melinda Sawers and Sue Lyons and ex students Leighton and Jem for lending their expertise.  None of this would be possible without James Lauritz who filmed it all, donated his time and skill and was such an ease and pleasure to work with.  Thank you, James!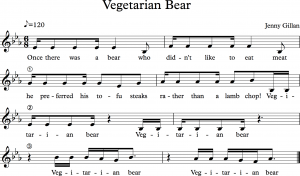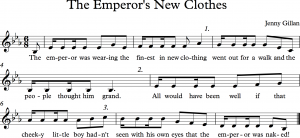 Teaching Purpose: Compound time          Tonic, Dominant (I-V) harmony
ka-ti-ti-ka   (Veggie Bear)
anacrusis and ka-ti-ka-ti  (Emperor's New Clothes)
Formation: One circle seated on the floor, each person with a cup or a clave or a shoe(!)
Actions:  Actions to the rhythm ti-ti-ti tam – 
Pick up cup to your left side with your right hand,
swap cup to left hand,
right hand place on the floor
Place cup on the floor towards your right side.
Actions for the Emperor's new Clothes are the same, they just start with action four first.
Extension:
These songs can be done in a round as well as being partner songs. This is possible in up to six parts – six different circles.  Also possible to have different people within a circle singing different parts.